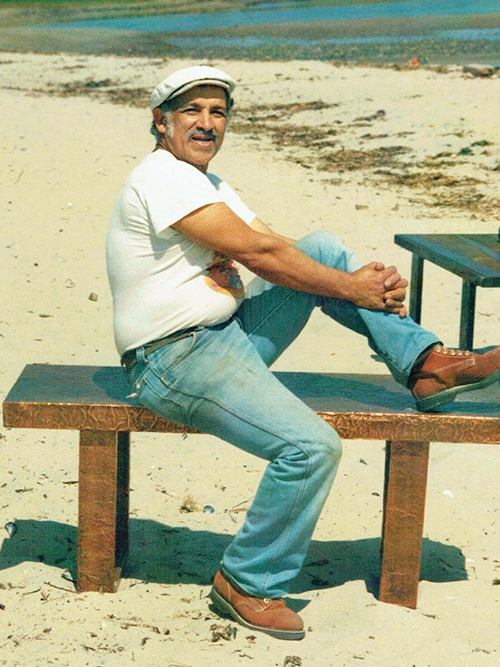 Frank Diaz Escalet (1930-2012), was a Puerto Rican-American artist who originally lived in New York before settling in Maine. Escalet's bold and brilliant paintings art chronicle both the everyday lives and cultural expressions of Hispanic Americans in the mid-20th century. Much of Escalet's is autobiographical, including his attempts to escape the Spanish Harlem ghetto of his youth in order to make a better life for himself.
"We forget history, yet we don't learn from it," Escalet once said when discussing the issue of discrimination against immigrants to the United States. "All we see is just the flag. We don't open our minds." In addition to making works that dealt with the social and political experiences of Hispanic immigrants, Escalet was interested in making paintings that were deeply personal, and strongly felt. He had a commitment to imagination and curiosity. "With curiosity," he once stated, "you are looking at and discovering things, and then inventing things. You can take off like a bird."
In addition to being a largely self-taught painter, he was also a master leather artisan who designed and created leather garments for celebrities and groups including The Rolling Stones, The Union Gap and Aretha Franklin. Extremely versatile as a craftsman, he also made a leather cello for Pablo Casals and was commissioned by the Metropolitan Museum of Art to design and create the leather cushions for the stone slab seats in the museum's sculpture garden.
Escalet's works have been widely exhibited, including at the New American Cultural Exchange in Prague sponsored by the American Embassy in summer 1993, at the Frydek-Mistek Museum, Northern Moravia (Winter 1993) and in the State of the Art 93 exhibit sponsored by the N.E. Fine Art Institute of Boston.
Escalet also appeared in several television documentaries. His works hang in the permanent collections of the Naprstkovo Museum and National Gallery, Prague; Bratslavia Primitive Museum, Slovakia; Union of Artists, Moscow; and Frydek-Mistek Museum, Northern Moravia. In October, 1995, a one-person exhibition of his work was held at Hub Gallery at Penn State University.