The artist Birger Sandzén was a renowned Swedish-American painter, printmaker, educator and art advocate. Born in 1871 in Blidsberg, Sweden to a cultured family, he first attended a boy's school in Skara where he studied drawing and painting with the noted academician Olof Erlandson. After graduating in 1890, Sandzén furthered his studies—in French and Esthetics—at Lund University.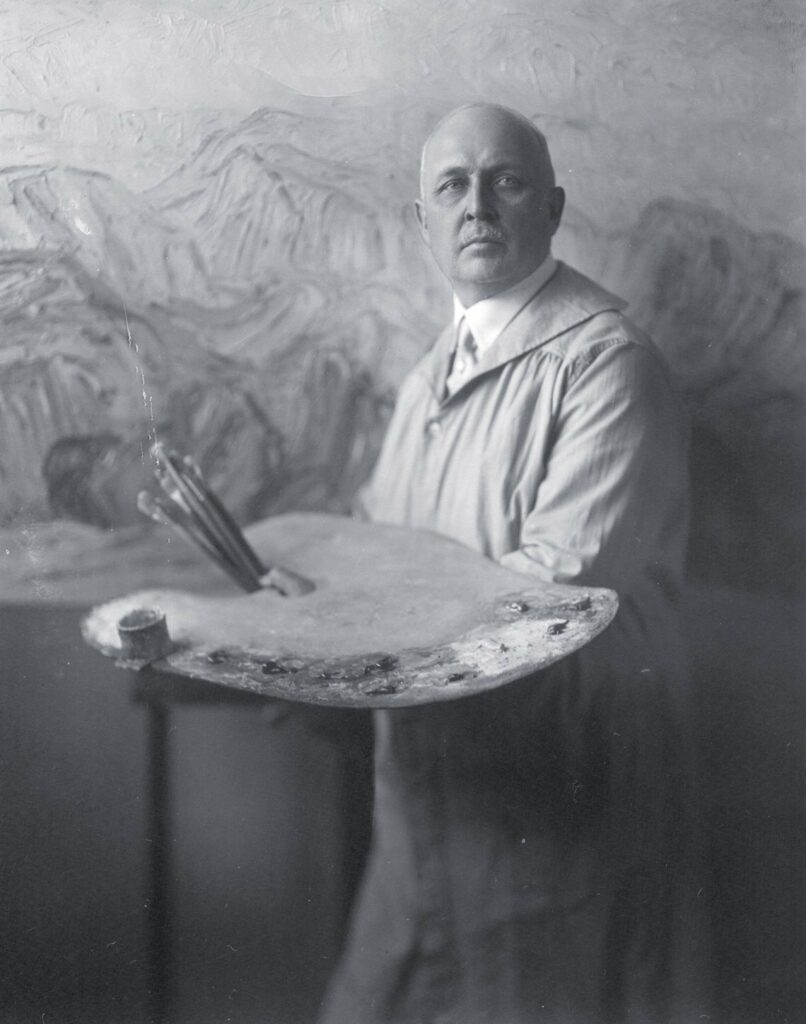 Sandzén then moved to Stockholm where he joined a group of students connected to leading Swedish artists including Anders Zorn. An accomplished portraitist, Zorn painted energetically in a limited palette that emphasized contrasts of warm and cool tones, a bravura approach that made an impression on young Sandzén.
Further studies in Paris with Edmond François Aman-Jean—a proponent of Impressionism and Pointillism—emboldened Sandzén's approach to painting and connected him with American students.
After corresponding with Dr. Carl Aaron Swensson, the founder of Bethany College in Lindsborg, Kansas he accepted a teaching position there in 1894. Initially a language instructor he soon became the college's leading art instructor and also taught art history and aesthetics. Because he carried a full teaching schedule Sandzén often painted into the late hours of the night.
Sandzén first painted in Colorado Springs in 1916, and soon became a frequent visitor to Santa Fe and Taos, New Mexico. He spent the summers of 1923-24 teaching at the Broadmoor Academy in Colorado Springs and also taught at Chappell House —now the Denver Art Museum—and other regional institutions. Deeply fascinated by the American landscape he began to travel and develop his boldly colorful and graphic style. It was his belief that painting was a way of capturing and transmitted the vigorous raw beauty of North America's varied natural formations and scenery. He had an interest in geology and rock formations and painted mountains with a sense of weight that recalls the works of Cezanne. 
During the Great Depression, Sandzén worked as a W.P.A. artist and also wrote a book called, "With Brush and Pencil". In the 1930s he became the founder of the Prairie Printmakers Society which was one of America's most successful print societies. He was a versatile intellectual who spoke six languages including Latin. Also a fine vocalist, he performed solos with the nationally famous Bethany Oratorio Group. Sandzén remained at Bethany for the remainder of his career, retiring in 1946.  
As a Professor Emeritus he remained a prolific painter and printmaker, working constantly until his death in 1954. During his lifetime Sandzén completed in excess of 2600 oil paintings and 500 watercolors. He created 207 lithographs, 94 block prints and 27 drypoint etchings, a total of over 33,000 individual sheets.
Birger Sandzen died at age 83 in 1954 in Lindsborg, Kansas. In many ways he had been ahead of his time, especially in his use of color, but his reputation has blossomed in recent years. The Birger Sandzén Memorial Gallery, founded a few years after his death, maintains a display of his works, promotes his legacy and presents shows by other artists.