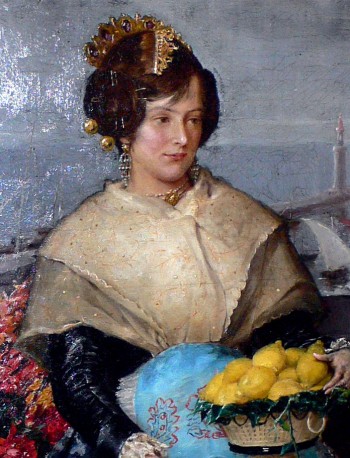 Rafael Villanueva Enriquez, Portrait of a Lady with a Basket of Lemons in Traditional Spanish Dress, 1885 (Detail)
Buying Rafael Villanueva Enriquez paintings – Highest Prices Paid:  Artist Bio & images follow:
RAFAEL VILLANUEVA ENRIQUEZ (b. Nueva Caceres, Camarines, July 1, 1850 d. May, 1937)
 Rafael Villanueva Enriques was the son of Antonio Enriquez y Seguera and Ciriaca Villanueva, both immigrants from Spain. He studied at the Ateneo Municipal and the Academia de Dibujo y Pintura. He received his Bachelor of Arts degree from the University of Santo Tomas (UST) where he also enrolled in law. At the age of 18, he continued his legal studies at the Universidad Central de Madrid in Spain.
After completing his his Licenciado en Derecho (law degree) in I874 he enrolled as a painting student at the Real Academia de San Fernando. From 1879 to 1887, he lived in Paris where he executed portrait paintings.
In 1887 Enriquez travelled to London where he finished a historical canvas, "La muerte de D. Simon de Anda," (The Death of D. Simon de Anda), which won a medal at the Exposicion General de Filipinas in Madrid in 1887. The painting was later acquired by the National Library, Manila. He returned to Manila in 1896, in time to witness the execution of Philippine patriot Jose Rizal.
Enriquez was one of the organizers of the Sociedad internacional de Artistas, and it was partly due to his initiative that the society held an exposition of fine and industrial arts in Manila in 1908. He was the first director of the University of the Philippines (UP) School of Fine Arts and was its head for 17 years.
Enriquez's works depict foreign themes, figures and scenes including "San Agustin," (St Agustin), "Una jitana tocando la Pandereta," (A gypsy Lady Playing the Tambourine), 1875, "Una dama de la edaa Media," (A Middle Aged Woman), "Carmen de Granada," (Carmen of Granada), "The Alhambra," (Alhambra), "La lealtad Filipina," (Philippine Loyalty), "A Portrait of a Young English Woman," 1888, [Head of Christ with the Cross], 1890, "Saint Augustine," "San Francisco de Asis," (St Francis of Assisi), "El Juicio de Dios," (TheJudgement of God), and "El Pano de la Veronica," (Veronica's Veil). Other works are "Un Patio Andaluz," (Andalucian Yard) and "Un Jitano tocando la Guitarra," (A gypsy playing the guitar) from the Jorge B. Vargas collection; and four works at the UST Museum.
Do you have a piece by this artist that you are interested in evaluating or selling?
INQUIRE ABOUT YOUR PIECE