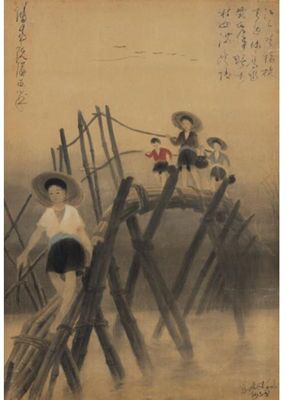 Nguyen Phan Chanh, "Crab catcher," ink gouache on silk, 1938
Buying Nguyen Phan Chanh paintings – Highest Prices Paid:  Artist Bio & images follow:
NGUYEN PHAN CHANH (Vietnamese, 1892-1984).
Chanh was born on July 21, 1892 into a poor but learned family. He received a classical Sino-Vietnamese education before going to a school run by the French colonial administration. He next attended the Ecole des Beaux Arts de Indochine between 1925 and 1930. It was there that he was encouraged to pursue his interest in painting on silk, which became his specialty.
After winning a painting prize in Paris in 1931 he built a career as a teacher, first at the Shaddock School and later at Hanoi Fine Art University. His best known works show the young women of rural Viet Nam. His daughter, Nguyet Tu remembered:
"My father's life is closely attached to rural Vietnam. His memories of rural Vietnam are plentiful. If you see my father's pictures, you will realize that he's a painter of rural girls."
Chanh's silk paintings were displayed in Paris in 1931, Italy in 1934, America in 1937, Japan in 1940, then in Czechoslovakia, Hungary and Romania in 1982, Poland and the former Soviet Union in 1983.
Artist Nguyen Phan Chanh was a member of the National Assembly, Third Legislature, of the Democratic Republic of Vietnam. After his death, he was awarded the Ho Chi Minh Prize.
Nguyen Phan Chanh died in Viet Nam in 1984.
Do you have a piece by this artist that you are interested in evaluating or selling?
INQUIRE ABOUT YOUR PIECE