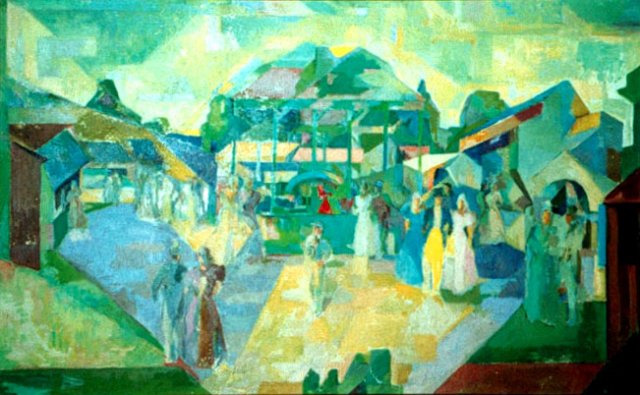 Painting by Macario Vitalis
Buying Macario Vitalis paintings – Highest Prices Paid:  Artist Bio & images follow:
MACARIO CRUZ VITALIS (Filippino, 1898-1990)
Macario Vitalis was a painter of visionary paintings influenced by French Post-Impressionism.
Born in Lapog, Ilocos Sur, a town with no art galleries, he was a "peasant teenager" when left the Philippines for the United States in 1917, where he attended art school in San Francisco and worked as an elevator boy at night. In 1924 he studied at the Pennsylvania Academy of Fine Arts.
He left the US in late 1926 and then settled in France. There he studied at the Academie de Montmartre and set up his studio in the Paris suburb of Puteaux. There he met important modernist painters including Pablo Picasso, and created works that depicted the pleasures and mood of pre-war Parisian life.
In the 1950's he was living in Brittany where he created a series of Breton seascapes that featured Post-Impressionist color schemes. Returning to the Philippines in 1963 his work was shown at the National Library. While there, Vitalis painted works with spiritual and religious themes.
In 1975, he was declared "the only honorary citizen" of Ple'stin-les-Gre'ves, Brittany where he had originally settled.
In 1981 his works, along with works by Nena Saguil, and Ofelia Gelvezon-Tequiwere shown in an exhibition Six Artistes Contemporains Philippins en Europe at the Academie Diplomatique Internationale in Paris. in 1984, he was honored with the medal of excellence from the Institut Academique de Paris. He was also the subject of a retrospective at the CCP Main Gallery in 1986, where works from as far back as 1936 were shown. Vitalis died in 1990 during his last trip to the Philippines.
His works can be found in the collection of the Lopez Museum, Pasig City, The Philippines.
Do you have a piece by this artist that you are interested in evaluating or selling?
INQUIRE ABOUT YOUR PIECE