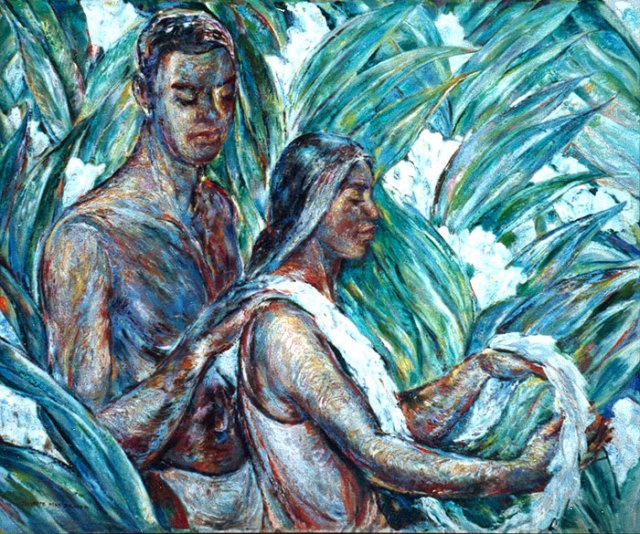 Painting by Juliette May Fraser
Buying Juliette May Fraser paintings – Highest Prices Paid:  Artist Bio & images follow:
JULLIETE MAY FRASER (American, 1987-1983)
Juliet May Fraser was born on January 27, 1887, in Honolulu, Hawaii. Her father was an accountant, and her mother was a teacher who later became the first principal of Ka'iulani School.
She attended the Punahou School, and later graduated from Wellesley College with a degree in Art. After returning to Hawaii, she became a teacher, and by saving her salary she was able to also study at the New York Art Student's League, and attend summer school in Woodstock, New York. In Honolulu she studied painting with Frederick Taubes, Joseph Albers and printmaker Huc Luquiens.
In 1934 she earned $35 a week creating murals for the Works Progress Administration and then in 1935 she received a mural commission from Mrs. Charles Adams. Now established as a muralist, she painted murals for the Hawaii Pavillion at the San Francisco World's Fair of 1939.
Fraser wrote and illustrated "Ke Anuenue" in 1952, chosen by the American Institute of Graphic Arts as one of the year's fifty best books. In 1959, working with David Asherman, she created fresco murals she created for the interior of the Chapel on Chios Island in Greece. Afterwards, the local villagers renamed the street leading to the chapel "May Fraser Street."
In 1972 she completed a tile mural for the Benjamin Parker Elementary School in Kaneohe, with tiles created by Mexican craftsmen.
In her obituary, the Honolulu Star-Bulletin reported:
"Fraser's work wasn't flashy. In fact, critics described her art as "deceptively simple." And the tiny, unassuming woman usually dressed in a palaka shirt and slacks she sewed herself.
Juliet May Fraser's works can be found in the following collections:
The Fine Arts Museums of San Francisco
The Hawaii State Art Museum
The Hawaii State Library
The Honolulu Academy of Arts
The Library of Congress
The Metropolitan Museum of Art
The Nelson-Atkins Museum of Art, Kansas City, Missouri
The University of Hawaii at Manoa
Do you have a piece by this artist that you are interested in evaluating or selling?
INQUIRE ABOUT YOUR PIECE