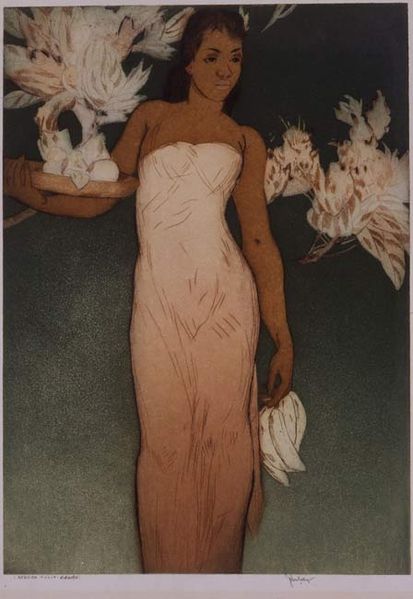 John Melville Kelly's color aquatint 'African Tulip', c. 1937
Buying John Melville Kelly paintings – Highest Prices Paid:  Artist Bio & images follow:
JOHN MELVILLE KELLY (American, 1879-1962).
American painter and printmaker John Melville Kelly was born in 1879 in Oakland, California. As a young man, Kelly studied art at both the Mark Hopkins Institute of Art in San Francisco and also at the Partington Art School where instructor Eric Spencer Macky influenced his development. Kelly began his career as an illustrator for the San Francisco Examiner, where he worked for fourteen years, and also was briefly a prizefighter.
John Kelly and his wife Kate Kelly — a sculptor — were invited to Hawaii in 1923 by developer Charles Frazier, who wanted Kelly's help in rendering plans for a Lanikai development. The couple were enchanted by Hawai'i and decided to stay. After Kate took printmaking classes from Huc-Mazelet Luquiens, she passed his techniques on to her husband who quickly excelled in etching. Kelly was brilliant etcher who was prone to experimention, and who used acquatint with great subtlety.
As Kelly's reputation increased during the 1930's and 1940's he was important in creating an idealized vision of Hawaii and its people. He also worked as the art director of Honolulu Star-Bulletin until 1932 when he decided to pursue his art on a full-time basis.
Using local models, John Kelly captured the island's people and their pastimes even as ancient traditions faded away. His art was exhibited at the Honolulu Academy of Arts and the Hawaii State Museum, and was reproduced on menu covers at the popular Royal Hawaiian Hotel.
John Melville Kelly was the author and illustrator of "Etchings and Drawings of Hawaiians" published in 1943 and also "The Hula as Seen in Hawaii" published in 1955. John Kelly died in Honolulu in 1962.
The Hawaii State Art Museum, the Honolulu Academy of Arts, and the Nelson-Atkins Museum of Art (Kansas City, Missouri), Saint Joseph College Art Gallery (West Hartford, Connecticut) and the San Diego Museum of Art (San Diego, California) are among the public collections holding work by John Melville Kelly.
Do you have a piece by this artist that you are interested in evaluating or selling?
INQUIRE ABOUT YOUR PIECE