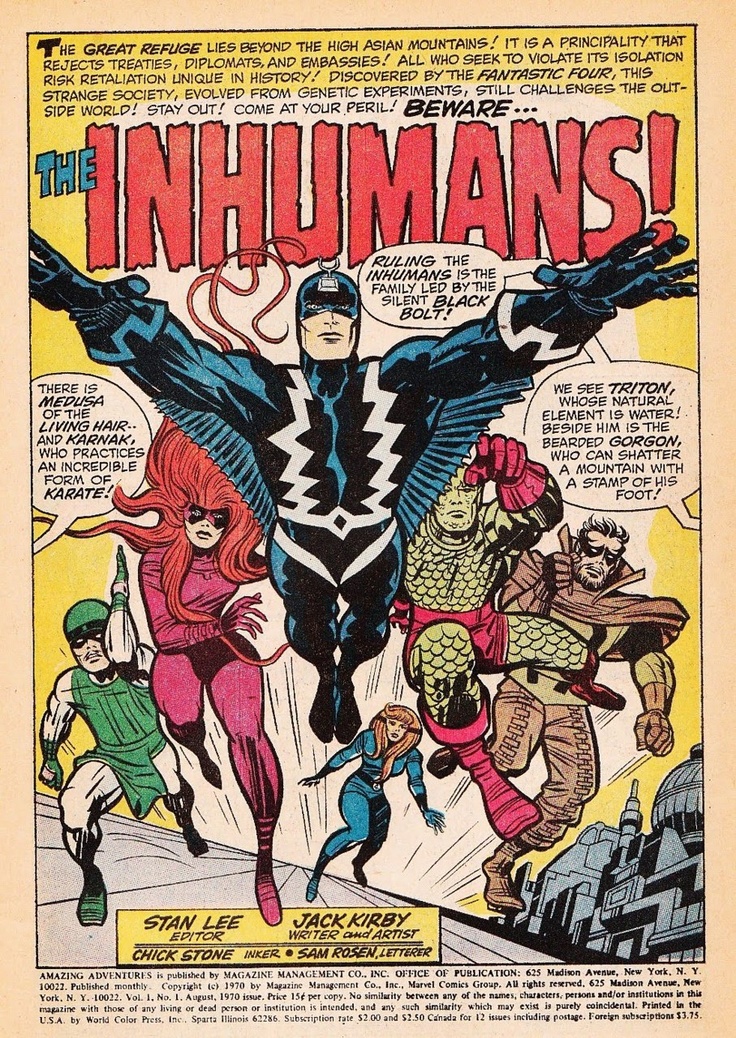 Jack Kirby and Stan Lee were, without doubt, the greatest team in the history of comics: they were to comics what John Lennon and Paul McCartney were to songwriting. Together, they worked on quite a number of projects, including the Avengers (a classic grouping of comic heroes) the X-men, the Fantastic Four and the Hulk. Given that both these men are legends in their field, the question that comic book aficionados like to debate is this: If both Kirby and Lee worked on some of the best known Marvel comics who should get the credit for actually creating the Marvel superheroes they both worked on. Who should be called the "the creator" when it takes ideas, words and images to make a comic superhero whole? Its a question that has implications for future copyrights, royalties and artistic legacies.

While working at Marvel, it was Stan Lee who generally got the writer credit, while Jack Kirby was the artist/illustrator who created the "look" of things while often getting second billing. He also—if you read what he later had to say—did much more than just draw characters. The issue of Kirby not being given adequate credit is what caused him to leave Marvel for DC Comics. After Kirby's death, a 2009 lawsuit filed by the artist's family to obtain a fair share of movie royalties was settled successfully, helping to posthumously acknowledge his importance.

Kirby was, after all responsible for the first appearance of the "Fantastic Four"—Mister Fantastic, the Invisible Woman, the Human Torch and the Thing—and it was his phenomenal "pencil" skills that made these characters and others take shape and come alive. Only an artist with Kirby's flexible imagination was capable of creating figures that had such extraordinary graphic vitality and striking physical attributes. But he was more than just an artist: Kirby also understood the psychological complexities that heroes needed to have and he endowed them with a kind of superhuman humanity that embraced both shadow and doubt and which even suggested compassion towards villains. One of the things Kirby did best was give his heroes emotions that were credible.


Long before he met Stan Lee, Jack Kirby had been part of another collaboration, teaming with Joe Simon to create the classic superhero "Captain America," who punched Hitler in the face on a comic book cover and who was designed to inspire pride and patriotism during wartime.In fact, It seems fair to say that Kirby was the "common denominator" in a number of collaborations that turned out well: his considerable conceptual and drawing skills could move almost any idea or project towards fruition and success.

In the 1950s Kirby began work at Atlas Comics (which later became Marvel) that Kirby first met a young man named Stanley Leiber, who comic fans now know at Stan Lee. As Kirby once recalled in an interview: "I met Stan Lee when I first went to work for Marvel. He was a little boy. When Joe and I were doing Captain America. He was about 13 years old. He's about five years younger than me." Lee, it turns out, was also the publishers cousin and—in Kirby's memory—a pest who liked to irk those around him. In the same interview, Kirby states that he never "collaborated" with Lee, who he felt was a kind of "double-dipper."

I would write out the whole story on the back of every page. I would write the dialogue on the back or a description of what was going on. Then Stan Lee would hand them to some guy and he would write in the dialogue. In this way Stan Lee made more pay than he did as an editor. This is the way Stan Lee became the writer. Besides collecting the editor's pay, he collected writer's pay.

So, even though Kirby's name was often as large as Lee's on the cover of the comics he helped create, there was a difference in rank. He was, as most comic artists were, a freelancer, not a permanent staff member such as an editor art art director. In the end, it seems fair to say that Kirby made huge contributions to Marvel characters—he gave them graphic style and also had quite a bit of influence on the pacing and plotting of the comics they appeared in—but Lee, as he matured was a savvy editor who gave things their editorial oversight and moved things forward. Kirby was a consummate artist who was, in retrospect, fortunate to have an editor/collaborator who was a savvy businessman and manager who made things happen.

Or, to put it another way, both men were dynamic and creative, but when they worked together they were a kind of "superhero" as a team, almost invincible in their creativity and mold-breaking dynamism. It makes sense, doesn't it, that men who worked together on a comic called "The Fantastic Four" understood the power of teamwork.