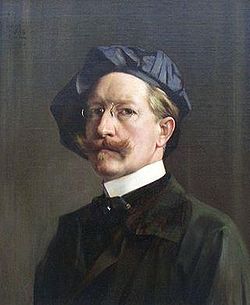 The Dutch born painter Hubert Vos, who attended the 1893 Chicago World's Fair as a Deputy Commissioner for the Netherlands, had an epiphany at the event which would change the course of his artistic career. He later wrote:
It was during the World's Fair in Chicago, where the officials had brought together the greatest collection of the different people of the Globe ever reuninted in one spot at tremendous expense, that I began to study the works I could get hold of on Ethnology and was shocked to see what poor specimens the principal authors had, to illustrate their very superior works. I thought it might be possible to establish a type of beauty of the different aboriginal races before they became much too mixed or extinct and soon got to work. works. I thought it might be possible to establish a type of beauty of the different original aboriginal races before they became too much mixed or extinct and soon got to work.

Although Vos continued to support himself with portrait commissions after the fair, he became increasingly known as a painter of ethnic types. In 1897 he spent eight months at Fort Totten, North Dakota, painting Native Americans. After that, travels to Hawaii, Korea, Japan, and Hong Kong followed. In 1899, a few months before the outbreak of the Boxer Rebellion, he was in China where he painted a variety of figures including a young man who would later become the first president of China. Vos asked to paint China's empress dowager, but his request was turned down and he returned to the U.S.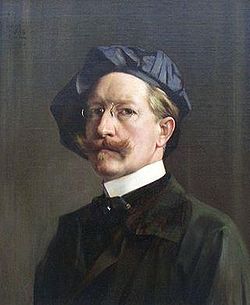 Hubert Vos: Self-Portrait, 1922
About 40 of the ethnic portraits made by Vos during his travels in Asia were exhibited at the Union League Club in New York and the Corcoran Gallery of Art in Washington, DC, as well as at the Paris International Exposition of 1900. Perhaps because of his background in painting society portraits, Vos' portraits of Asian subjects tended to endow them with a certain glamor and dignity. One critic described his portraits as "delicate, smooth, and accomplished."
Through the efforts of Sarah Conger, the wife of the American envoy to Beijing, the American artist Katherine Carl was invited to Beijing in 1903 to produce a portrait of Empress Cixi for the upcoming 1904 Louisiana Purchase Exposition. Carl spent many months created a flattering life-size portrait that measured over nine feet tall. The finished work was shipped to St. Louis accompanied by a large retinue of Manchu officials where it had a prominent place in the exhibition.
Katherine Carl: Portrait of the Empress Cixi, 1903-4
In 1905 Vos, now an American citizen, returned to China and was given the opportunity to become the second American to paint the dowager empress. Cixi, who had been on the throne for 40 years when Vos arrived, was a notorious figure who had been much gossiped about in the west. It was whispered, for example, that she had poisoned her nephew and had his favorite concubine thrown down a well. Vos had to appear at court at 5 a.m. to meet her, and was given only four brief sessions in a studio on the top floor of a Beijing hotel. In his letters he later related his impressions of his subject:
Erect, with a tremendous will power, more than I have ever seen in a human being. Hard, firm will and thinking lines, and with a brow full of kindness and a love for the beautiful. I fell straight in love with her.
 Hubert Vos: The Dowager Empress Cixi (Tzu Hsi), 1906 
On display at the Summer Palace, Beijing
Vos ultimately painted two portraits of the Empress, who was 71 years old. In Vos' portraits she looks considerably younger, and the artist reportedly enlarged her eyes and plumped her lips at Cixi's request. One of the portraits is in the collection of Harvard University while the other, larger image has remained in China. That version was severely damaged in the 1950s, and was recently restored by a group of experts from the Dutch province of Limburg. It was put back on public display at the Summer Palace in November of 2008.
In August of 2011, Hubert Vos' grandson — Hubert D. Vos — donated six Vos portraits of Chinese subjects to Beijing's Capital Museum. They depict statesman Li Hongzhang, warlord Yuan Shikai, Prince Yi Kuang, a Manchu boy, the daughter of an official of the Fujian navy, and a Suzhou girl from an aristocratic family.
Mr. Vos told a Chinese news reporter that although he cherished the pictures very much "I think they should return to their birthplace."
Links: