Artist Francis Newton Souza was born to Catholic parents in 1924 in Saligao, Goa, a Portuguese colony in the south of India. After his father died when he was three months old Frances moved with his mother Lilia to Mumbai where she worked as a dressmaker. While attending St. Francis Xavier's College, a secondary school, he was expelled for drawing erotic scenes in the boy's lavatory. At age 16 he enrolled in the Sir JJ School of art where he was always in trouble. In 1945 he was suspended for supporting Mahatma Gandhi's movement to expel the British from India.
In 1947, just months after India gained its independence, Souza founded the "Progressive Artist's Group" which included his friend Maqbool Fida Husain. Together, they experimented with Western art styles including Expressionism and Art Brut. When a 1948 Souza exhibition at a frame shop brought complaints from Mumbai's conservative Goan community Souza and his wife emigrated to London.
In London Souza's work came to the attention of the poet Stephen Spender introduced him to the collector Peter Watson. In 1954 he was included in a prestigious group show at the Institute of Contemporary Arts, boosting his career. When Stephen Spender published Souza's autobiographical essay "Nirvana of a Maggot" in Encounter magazine, Victor Musgrave a leading dealer gave him a one man show which sold out.
Productive and protean, Souza's subjects included the personal, the sacred and the profane. His Catholic education provided religious subjects that he painted with ferocious zeal including Christs, crucifixions and "Susanna and the Elders."
He painted women as goddesses, mothers and earthly erotic fantasies. Traveling in Europe led to paintings of cityscapes and he also painted numerous still life paintings. And in his many heads, of ordinary men, monsters and mad prophets the influence of Picasso, who he met and admired, was often clear. Souza also experiment with collage-like works on altered magazine photos.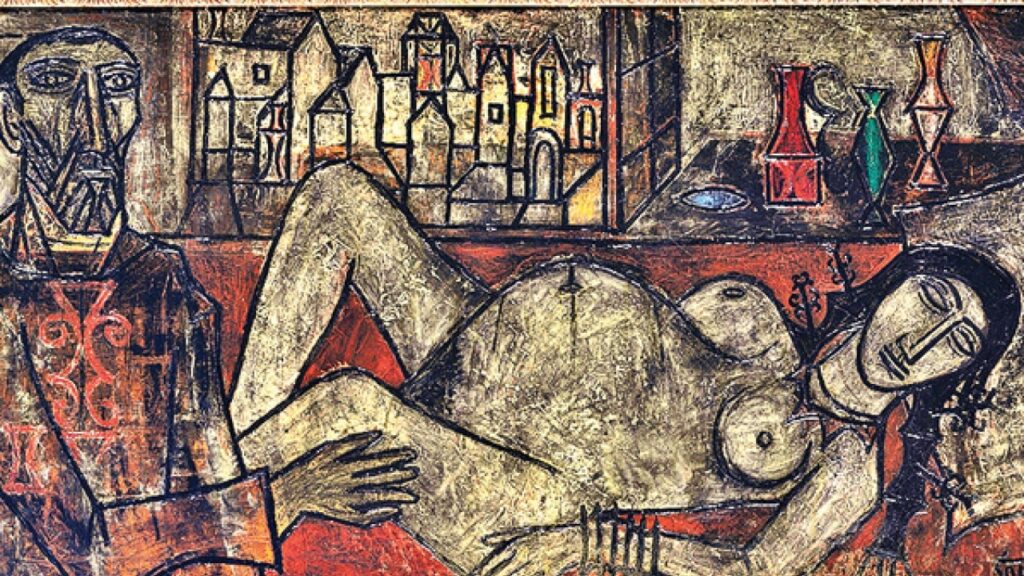 Souza's innumerable drawings explore the human condition with a flexible and graphic sense of line. Ranging from realistic to radically distorted, his drawings demonstrate how restless his imagination truly was.
In his mature years Souza lived in both the United States and India. The father of five children who took several mistresses after his second divorce he was given a retrospective in India in 1987 that was followed by shows in Karachi in 1988 and New York in 1998. Before his death from a heart attack in 2002 he offered up a vision of immortality. "Nothing dies: everything is recycled into continuous life.