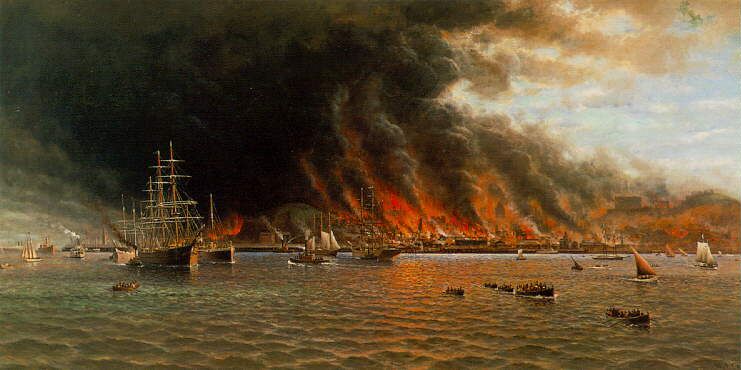 William Coulter's "Evacuation of San Francisco," 1906
Buying William Coulter paintings – Highest Prices Paid:  Artist Bio & images follow:
WILLIAM COULTER (Irish, 1849-1936).
William Alexander Coulter, a painter of maritime scenes, was born in Glenariff, Ireland, the son of a sea captain. At age thirteen he began a seven-year stint as a sailor during which he often sketched and painted. Although he was to some degree a self-educated artist, he did study with several marine artists after settling in San Francisco in 1869. By 1874 he was a regular exhibitor at the San Francisco Art Association. At the end of the 1870's he studied in Europe with maritime artists including Vilhelm Melbey, Francois Musin, and Jacob Jacobsen.
He first traveled to Hawaii in 1892, and returned several times after that. His paintings of the Hawaiian coast are noted for their realistic atmosphere and careful attention to detail. For most of the 1890's he lived in San Francisco and created illustrations for the San Francisco Call.
Among Coulter's best known works is a panoramic scene of the largest maritime rescue in US history, in which thirty thousand people were taken from the shoreline between Fort Mason and the foot of Lombard Street as the fled the flames and chaos caused by the great earthquake of 1906.
William Coulter died in Sausalito, on March 13, 1936.
Do you have a piece by this artist that you are interested in evaluating or selling?
INQUIRE ABOUT YOUR PIECE