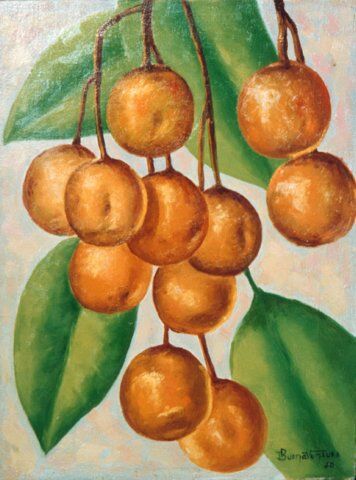 Painting by Teodor Buenaventura
Buying Teodoro Buenaventura paintings – Highest Prices Paid:  Artist Bio & images follow:
TEODORO PASCUAL BUENAVENTURA (b.Paombong, Bulacan, April 1, 1863 d. Feb. 5, 1950)
Teodoro Buenaventura liked to draw as a child, and made drawings of Bulacan landscapes in pen and ink. He also received some art lessons from a Spanish artist.
After he became fatherless at the age of 14, Teodoro Buenaventure looked for work in Manila. The mother of Ramon Salas, who became his employer, say a copy he made of a historical painting. Much impressed, she sent him to the Escuela Superior de Pintura, Escultura y Grabado deo Manila.
In 1895 he entered three oils, "Despues del Banio," (After the Bath), "Cabeza del Estudio," (Head Study), and "Estudio de Natural," (Study from Nature), at the Exposition Regional de Filipinas. One of the three earned a gold medal. In 1899 he opened a portrait shop in San Jose, Trozo.
In 1908, his " Ya Vienm" (They Are Here) won one of the silver medals at an exhibition sponsored by the Association Internaciaonal de Artistas.
Buenaventura became an early instructor at the University of the Philippines School of the arts, teaching there from 1909 to 1935. During that time he gained a reputation as one of the masters of Philippine classical realism.
The bulk of Buenaventura's major works were destroyed during WWII. Most of those remaining are small landscapes and genre pieces that prove his consummate skills as a realist in the old school. His most popular works today are the pair of portraits at the Central Bank, of the Philippines, namely, the Portrait of Rufino Valencia and Portrait of Ramona Valencia. the latter mistakenly identified as the artists mother in Kayamanan. Both show the artists knack for strongly modeled forms and a sensitive eye for vital features that identify his sitters.
Buenaventura is especially remembered as an art teacher who was venerated by his students, including Serifin Serna, Tomas Bernardo, and Mauro Malaing Santos.
Do you have a piece by this artist that you are interested in evaluating or selling?
INQUIRE ABOUT YOUR PIECE