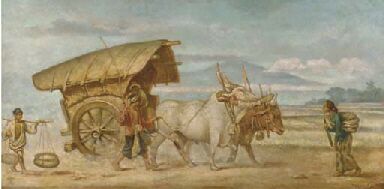 Menno Brouwer, "An Ox Wagon," 1924
Buying Menno Brouwer paintings – Highest Prices Paid:  Artist Bio & images follow:
MENNO VAN MEETEREN BROUWER (Dutch, 1882-1974).
Menno Van Brouwer, born on October 11, 1882 in Zwolle, Holland, was a painter, children's book illustrator, poster designer and political cartoonist. He studied at the Academy of Visual Arts in Amsterdam from 1904 to 1907. Brouwer worked and lived in Indonesia between 1910 and 1922 where he executed many portraits and landscapes. In 1912 he created a set of caricatures of the political and cultural life of colonial Indonesia for a book by D. K. Baldzert.
Brouwer died in Rijswijk, South Holland on July 11, 1974.
Do you have a piece by this artist that you are interested in evaluating or selling?
INQUIRE ABOUT YOUR PIECE