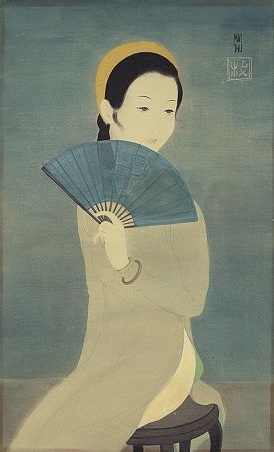 Mai Trung Thu, "Lady with a Blue Fan," 1940
Buying Mai Trung Thu paintings – Highest Prices Paid:  Artist Bio & images follow:
MAI TRUNG THU (Vietnamese, 1906-1980).
Mai Trung Thu was born in 1906 in Kien An. He was a member of the first class of the Ecole des Beaux Arts de Indochine along with Le Pho. During his education he developed a painting style in which he painted on silk, organizing patches of bold colors into defined areas of highlight and shadow. Thu's early art celebrated folk themes and the innocence of rural Vietnam, and also suggested a nostalgia for the past.
In 1937 Mai Trung Thu visited France to take part in an exhibition. He settled there for most of the rest of his life. and gained a reputation as a painter of doleful, lovely women. He participated with the painter Le Pho in the Grand Exhibition in Algiers in 1941.
He was known as an expert player of the bau — a one stringed instrument — and also as a film-maker who recorded Ho Chi Minh's visit to Paris.
His exhibitions in Paris included:
The Children of Mai Trung Thu (1964)
Women in the Eyse of Mai Trung Thu (1967)
The Poetic World of Mai Trung Thu (1980)
Mai Trung Thu died in France in 1980.
Do you have a piece by this artist that you are interested in evaluating or selling?
INQUIRE ABOUT YOUR PIECE