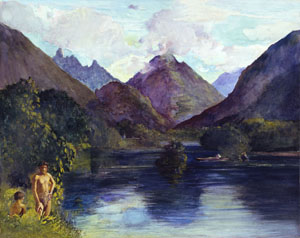 John La Farge, Entrance to Tautira River, Tahiti, ca. 1893
Buying John La Farge paintings – Highest Prices Paid:  Artist Bio & images follow:
JOHN LA FARGE (American, 1835-1910).
The American painter, stained glass artist, decorator and writer John La Farge was born in New York City on March 31, 1835. His parents were John Frederick de LaFarge, a French naval office and Louise Josephine Binsse. La Farge attended Mount St. Mary's University and St. John's University — now Fordham University — where he studied law. During a visit to Paris he studied painting with Thomas Couture and made many literary and artistic connections. He married Margaret Mason Perry in 1861, and continued his development as an artist by experimenting with color and by absorbing the influence of Japanese art.
In 1873 he executed a mural painting for Trinity Church Boston. La Farge next created decorations and a large altarpiece for the Church of the Ascension and decorations for St. Paul's Church in New York. Increasingly interested in stained glass, La Farge attempted to rival the colors of medieval windows and invented methods of coloring opalescent glass. Among his finest windows are the "Battle Window" at Harvard and the "Peacock Window" in the Worchester Art Museum.
In 1890 John La Farge and Henry Adams departed on a trip to the South Seas financed by Adams. For a year they explored Hawaii, Samoa, Tahiti, Fiji and Ceylon. La Farge created numerous notes, drawings and paintings during the trip which attest to his romantic view of nature. His finest works from the trip — including images of volcanic craters, mountains, beaches and figure studies — which demonstrate his scientific curiosity as well as his interest in anthropology.
Among the honors he recieved during his lifetime were the Cross of the Legion of Honor. In 1904 he was one of the first seven chosen for membership in the American Academy of Arts and Letters. La Farge was a prolific writer who published his letters from the South Seas as well as essays on Old Masters and Japanese art.
John La Farge died at Providence, Rhode Island on November 14, 1910, and was interred in the Green-Wood Cemetary in Brooklyn.
Do you have a piece by this artist that you are interested in evaluating or selling?
INQUIRE ABOUT YOUR PIECE