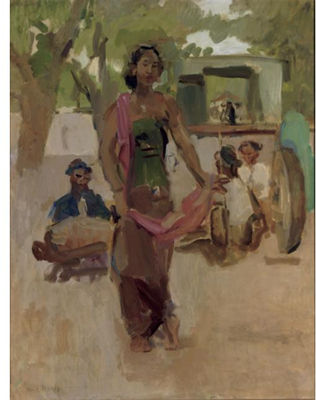 Issac Israels, Javanese Dancer, Indonesia, 1922
Buying Issac Israels paintings – Highest Prices Paid:  Artist Bio & images follow:
ISSAC LAZARUS ISRAELS (Dutch, 1865-1934).
The son of artist Jozef Israëls, Isaac Israëls developed an interest in literature, travel and painting as a child. Between 1878 and 1880 he studied at the academy in The Hague. His special talent was obvious from an early age. In 1881, when he was 16, he painted a picture that was purchased even before it was finished by the artist and collector Hendrik Willem Mesdag.
In 1866 Israëls registered at the Amsterdam Academy of Art to complete his schooling. However, he only stayed for the one year: as he was already an expert painter. Israëls often spent the summer months with his father in Scheveningen. There he executed marine paintings that demonstrate a careful observation of light.
In Amsterdam Israëls was a close friend of George Hendrik Breitner. In 1921 and 1922 he visited Jakarta, Indonesia. In 1923 he returned to his parent's home in The Hague, where his father's old studio became his new workplace. There, until his death, he produced paintings in an Impressionist style.
Do you have a piece by this artist that you are interested in evaluating or selling?
INQUIRE ABOUT YOUR PIECE