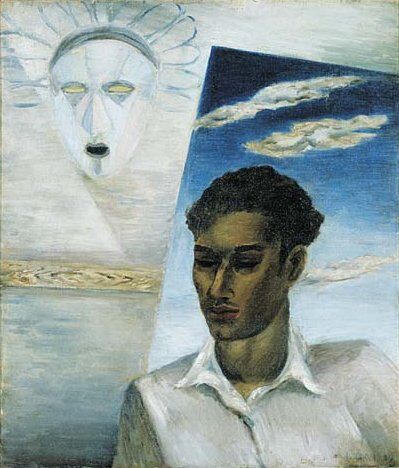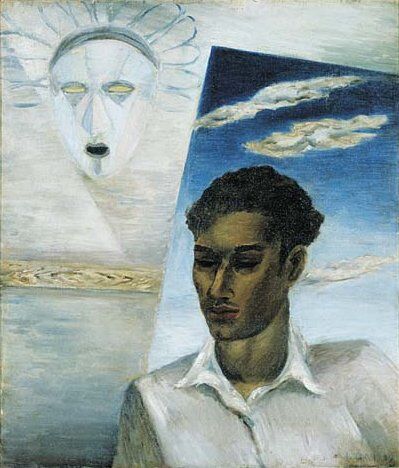 "Caucasian-Hawaiian," oil on linen painting by Isami Doi, 1939, Hawaii State Art Museum
Buying Isami Doi paintings – Highest Prices Paid:  Artist Bio & images follow:
ISAMI DOI (Japanese/Hawaiian, 1903-1965).
Isami Doi, an acclaimed printmaker and painter, was born on Oahu 1903 to Japanese immigrant parents. After growing up on Kaua'i, he attended the University of Hawaii for two years, and then Columbia University. He first studied science in preparation for medical school, then took law classes. Finally, in the Teacher's College of Columbia he met the German artist Isaac Webber who encourged his interest in art.
After exhibiting woodblock prints in New Your he returned to Hawai'i in 1928. Doi then spent a year studying in Paris before returning to New York. After 1938 he returned to Hawaii where he continued to make woodblock prints and also paintings. Doi taught printmaking, drawing, and metal work, as well as designing jewelry for the S. and S. Gumps store in Waikiki. Over time, his work increasingly approached abstraction, and featured Buddhist and Classical images and symbols. He also created personal symbols including hieroglyphs.
The artist Jean Charlot said of Doi: "A key to Doi's masterly work is that he belonged. To Hawai'i of course, but Hawai'i includes the skyscapers of Waikiki, the hotels of Kaanapali. He belonged most singularly to Kauai."
He is credited with inspiring a generation of Hawaiian/Japanese artists including Satoru Abe, Bumpei Akaji, Jerry Okimoto, and Tadashi Sato. Isami Doi died in 1965.
Doi's work can be found in the following institutions:
The Hawaii State Art Museum
The Honolulu Academy of Arts
The Nelson-Atkins Museum of Art (Kansas City, Missouri)
The Smithsonian American Art Museum (Washington, D. C.)
The University of Michigan Museum of Art (Ann Arbor, Michigan)
Do you have a piece by this artist that you are interested in evaluating or selling?
INQUIRE ABOUT YOUR PIECE