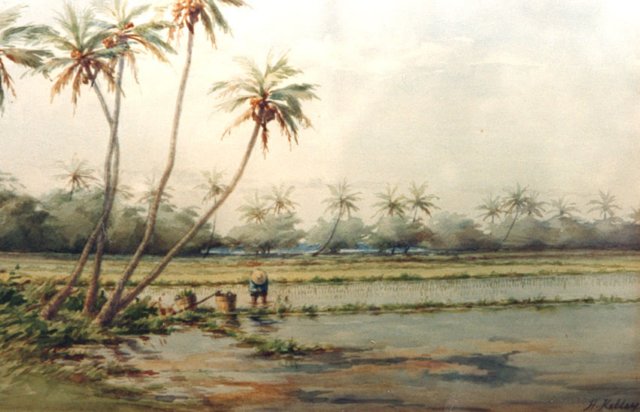 Buying Helen Whitney Kelley paintings – Highest Prices Paid:  Artist Bio & images follow:
HELEN WHITNEY KELLEY (American, 1852-1910).
Helen Whitney was born on Oahu on May 1, 1852. Her father, Henry M. Whitney was the island's former postmaster and the founder of the Honolulu Advertiser. Her grandparents had been early missionaries to Hawaii.
In 1876 she married Luke Kelley, a Oakland bank officer. During the 1890's she returned to Hawai'i several times to visit relatives there. During her visits she painted watercolor images of landscapes, flowers and Hawaiian natives. She exhibited her work in California including the California State Fairs from 1886 through 1895. Kelley moved to Hawaii in the late 1890's, and held Christian Science meetings in her home beginning in 1898. Kelley was also a member of the "Women's Board of Missions for the Pacific Islands."
Helen Whitney Kelley died in Honolulu on April 3, 1910.
Her work can be found in the collection of the Bishop Museum.
Do you have a piece by this artist that you are interested in evaluating or selling?
INQUIRE ABOUT YOUR PIECE