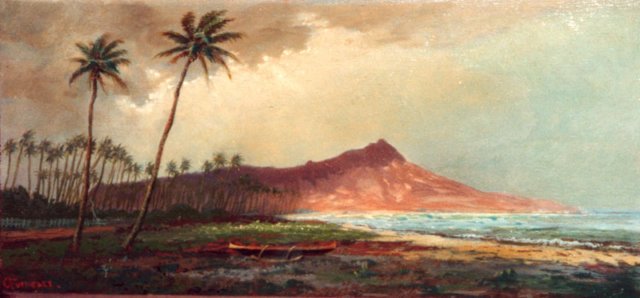 Painting by Charles Furneaux
Buying Charles Furneaux paintings – Highest Prices Paid:  Artist Bio & images follow:
CHARLES FURNEAUX (American, 1835-1913).
Artist Charles Furneaux was born in Boston, Massachusetts in 1835. He lived in Melrose, Massachusetts where he was a drawing instructor. In 1880 he set out from Boston with scientist William Tufts Brigham to view the results of a May eruption at Kilauea. He arrived at the Volcano House, Kilauea in July, and then remained in Hawai'i. He received training from Andreas Avelino Montano, a photographer, and developed a reputation for his vivid renderings of volcanic activity.
Furneaux also became friendly with King Kakakaua, from whom he received several commissions. Living in Honolulu, he taught at the Punahou School and also St. Albans. In 1885 he was honored as a Chevalier of Kapiolani in recognition of his artistic achievements.
Through his connection to William Tufts Brigham, who became the first Director of the Bishop Museum, that museum acquired 42 of his works. Paintings by Furneaux are featured in William T. Brigham's book "Volcanoes of Kilauea and Mauna Loa on the Island of Hawai'i."
Charles Furneaux died in Hawai'i in 1913.
Furneaux's works can be found in the collections of The Bishop Museum (Honolulu), the Brooklyn Museum, the Honolulu Academy of Arts, Iolani Palace (Honolulu) and the Mount Holyoke College Art Museum (South Hadley, Massachusetts.)
Do you have a piece by this artist that you are interested in evaluating or selling?
INQUIRE ABOUT YOUR PIECE