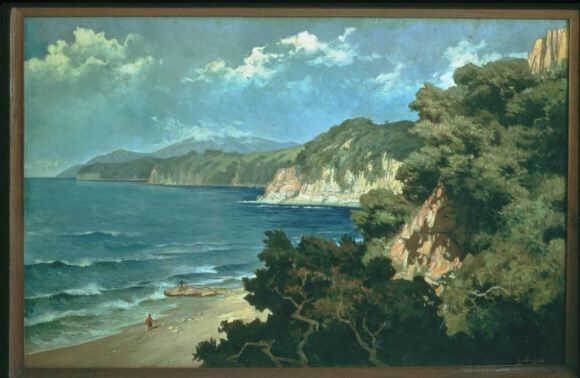 Basoeki Abdullah, Coast of Flores, 1939
Buying Basoeki Abdullah paintings – Highest Prices Paid:  Artist Bio & images follow:
BASOEKI ABDULLAH (Javanese, 1915-1993).
BASUKI ABDULLAH (alternate spelling).
The gifted portraitist Basoeki Abdullah was born in 1915, the son of artist Abdullah Suriosubroto (1878-1941).
With the assistance of his father, he was able to study in The Hague, Netherlands, where he spent three years at the Academy of Art. Near the end of his stay he won a painting competition held in honor of the coronation of Queen Juliana. After returning home, he was active in the Poetra Movement and also an art teacher. His pupils included Kusnadi, a painter and critic, and Zaini, an Impressionist painter. He was also active in Keimin Bunka Sidhosjo–a Cultural Center run by the Japanese government–along with the artists Affandi, S. Sudjoyono, Otto Djaya and Basoeki Resobawo.
After the World War II, Basoeki Abjullah was the subject of one-man shows in Bangkok, Malaysia, Japan, the Netherlands, England, and Portugal. Known for his colorful personal life, Basoeki Abdullah was married four times. He once painted and carried on an affair with a sixteen year old Thai beauty contestant when he was forty-eight. Abdullah was also a close friend of President Sokarno, and artist/politician. He was also a convert from Roman Catholicism to Islam.
Basoeki Abdullah was murdered by intruders to his Jakarta home on November 5 1993. His body is buried in the village of Mlati Sleman, Yogyakarta.
Do you have a piece by this artist that you are interested in evaluating or selling?
INQUIRE ABOUT YOUR PIECE