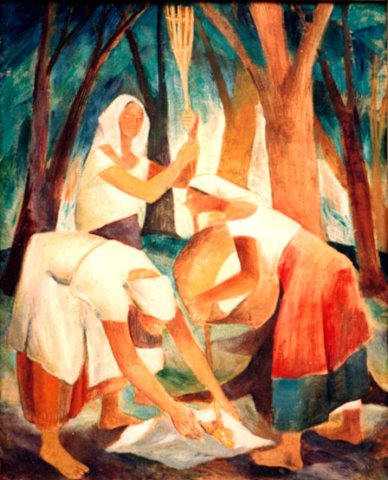 Painting by Anita Magsaysay-Ho
Buying Anita Magsaysay-Ho paintings – Highest Prices Paid:  Artist Bio & images follow:
ANITA CORPUS MAGSAYSAY-HO (Philippine, b. May 25, 1914, d. May 5, 2012)
aka Anita Magsaysay, Anita Magsaysay Ho
Styles: Philippine Modern, Neo-Realism
Subjects: Philippine genre scenes, landscapes, harvest and market scenes, female nudes
Anita Magsaysay-Ho is a Philippine painter, considered by many to be one of the most important and gifted Philippine modernists. In 1958, a panel of experts assembled by the Manila Chronicle named her one of the 6 most outstanding painters in Philippine history.  Magsaysay-Ho's best known canvases, which often have both realist and stylized aspects, celebrate the beauty of Philippine women engaged in everyday tasks.
Magsaysay-Ho was born in Manila in May, 1914, the daughter of Ambrosio Magsaysay, an engineer, and Armilla Corpus. Anita's first cousin, Ramon Magsaysay, served as President of the Philippines from December of 1953 until his death in a 1957 plane crash. Beginning her studies at the University of the Philippines School of Fine Arts at the age of 13 — accompanied by a nanny — she studied with Fabian de la Rosa, Vicente Rivera y Mir and also Fernando and Pablo Amorsolo. Fernando Amorsolo was her landscape teacher, while Pablo Amorsolo taught her drawing.
She also received private tutoring from the noted cartoonist Ireneo Miranda. She recieved additional instruction at the UP's School of Design where her instructors included Victorio Edades and Enrique Ruiz, and at the "Atelier of Modern Art" founded by Edades.
In the 1930s Anita Magsaysay travelled to the United States where she continued her studies at the Cranbrook Academy in Michigan. Anita also took courses in oil painting, and drawing at the Art Student's League in New York City. While in New York, Anita met her future husband, Robert Ho, who was also a student. After their marriage, he bought postwar ships in the United States and brought them to China where he established a shipping business: Magsaysay Inc. Because of her husband's work, the Hos and moved frequently, living in Brazil, Canada, Hong Kong and Japan. Anita, who has moved over 40 times in her lifetime, was soon raising 5 children. Anita was painting whenever possible, and always had a home studio where her children would sketch, play the piano and listen to music while she painted.
During the early 1940s Magsaysay – Ho's works showed the influence of Fernando Amorsolo both in their subject matter and their luminosity. Gradually, her paintings evolved towards modernism as they moved towards cubist distortion and evolved stylized visual rhythms. She was included on a list of "Thirteen Moderns" compiled by artist Victor Edades, and was at one point known as the "female Amorsolo."
In the 1950s Magsaysay-Ho exhibited at the important Philippine Art Gallery (PAG) which brought her public attention and acclaim. Her work was grouped with that of other Neo-Realists including Lydia Arguilla and Nena Saguil. Anita's paintings of this period featured women at work: harvesting fruit, gathering and sheaving grain, or selling fish in the marketplace. Her works were formally activated by bold brushwork and strong contrasts of dark and light tones.
 In the 1960s the space of Magsaysay-Ho's paintings opened up and the resulting images were more relaxed, with clearly articulated and separated figures. The lines in her work softened, and her modeling became more consistent. These paintings have the feeling of being choreographed, and are very graceful in their effect.
In the 1970s Magsaysay-Ho explored a new style influenced by Chinese calligraphy. Her paintings were often decorated with delicately controlled ink blots that suggested rock formations, vegetation or waves. At their best, they balanced human gestures with the calligraphic interest provided by the ink blots.  
In the late 1980's the artist had a "Green Period."  Green-hued fruit and vegetables mingle with female figures that seem to resemble plants or fruits themselves. The women in these paintings feature oval faces with high cheekbones and narrow eyes. Another series that followed the green paintings featured half figures surrounded by baskets, fruit and birds. These figures are solid and highly refined, rendered in an Asian palette that counter-balanced stark contrasts between colors such as burnt sienna and yellow-green.
In her nineties Magsaysay-Ho became the subject of a biography by Alfredo Roces, "In Praise of Women," published in 2005. She states, in the text; "In my works I always celebrate the women of the Philippines. I regard them with deep admiration and they continue to inspire me—their movements and gestures, their expressions of happiness and frustration; their diligence and shortcomings; their joy of living. I know very well the strength, hard work and quiet dignity of Philippine women, for I am one of them."
After suffering a stroke in 2009 Magsaysay-Ho stopped talking. One day, regaining her speech, she called her husband and told him "Robert, you are the only man I ever loved in my life."
Awards:
2nd Prize: The Manila Grand Opera House Exhibition, 1950, for "Five Senses"
1st Prize: The Philippine Art Association (PAG), 1952, for "The Cooks"
2nd Prize: The Philippine Art Association (PAG), 1953, for "Fruit Vendors"
1st Prize: The Philippine Art Association (PAG), 1959, for "Mending the Nets"
1st Prize: The Philippine Art Association (PAG), 1960, for "Two Women"
2nd Prize: The Philippine Art Association (PAG), 1962, for "Trio"
Collections:
The Ateneo Art Museum, Ateneo de Manila University, The Philippines
The Lopez Memorial Museum and Library, Pasig City, The Philippines
The Metropolitan Museum of Manila, The Philippines
The Yuchengo Museum, Makati City, The Philippines
Do you have a piece by this artist that you are interested in evaluating or selling?
INQUIRE ABOUT YOUR PIECE