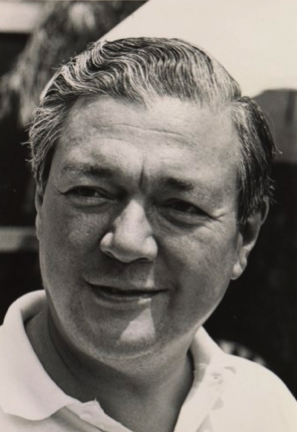 Alfonso Ossorio (1916-1990)
Buying Ossorio paintings – Highest Prices Paid:  Artist Bio & images follow:
Alfonso Ossorio was born in Manila on Aug. 2, 1916. His father started the first sugar refinery in central Philippines, the Victorias Milling Company on the island of Occidental Negros. The younger Ossorio attended private schools in England and the United States, and graduated from Harvard in 1938. He also attended the Rhode Island School of Design, and in 1939 was naturalized as an American citizen.
By then a full-time painter, Mr. Ossorio had two one-man shows, in 1941 and 1943, at the Wakefield Gallery in New York. From 1943 to 1946, he served as a medical illustrator in the Army. In 1950, he spent 11 months on Negros, where he did murals for a new church in the refinery village of Victorias.
Upon his return to the United States, Ossorio met artists Lee Krasner and Jackson Pollock. He became active as a collector, purchasing works by Pollock, Dubuffet and Tapies, all of whom influenced his own early paintings. To be near the Pollocks, Mr. Ossorio began spending summers in East Hampton in 1949, and two years later bought the Creeks. In the 1950s, Ossorio began to create works resembling Dubuffet's assemblages. He affixed shells, bones, driftwood, nails, dolls' eyes, cabinet knobs, dice, costume jewelry, mirror shards, and children's toys to the panel surface. Ossorio called these assemblages congregations, with the term's obvious religious connotation.
Ossorio had several shows in Paris, and from 1952 to 1961, he housed and exhibited at the Creeks Dubuffet's extensive collection of art by prisoners, the insane and other so-called outsiders, known as L'Art Brut. In the 1950's and early 1960's, Mr. Ossorio had several shows at the prestigious Betty Parsons Gallery, which for a time handled Pollock's work. From a 1950 Pollock show at Parsons, Mr. Ossorio bought — for $1,500 — "Lavender Mist," a major canvas that he sold in 1976 to the National Gallery of Art in Washington at a price said to be more than $2 million. Ossorio was represented alongside Dubuffet and nearly 140 other artists in the Museum of Modern Art's 1961 exhibition The Art of Assemblage, which introduced the practice to a broad public.
Ossorio died in New York City in 1990. Half his ashes were scattered at his grand estate The Creeks and the other half came to rest nine years later at Green River Cemetery. After his death, his longtime companion Edward "Ted" Dragon arranged for the sale of The Creeks, eventually selling it to Ronald Perelman complete with many of Ossorio's brightly colored found art sculptures placed in among the groves of exotic evergreens that Ossorio had carefully planted in his final 20 years of life.
Do you have a piece by this artist that you are interested in evaluating or selling?
INQUIRE ABOUT YOUR PIECE