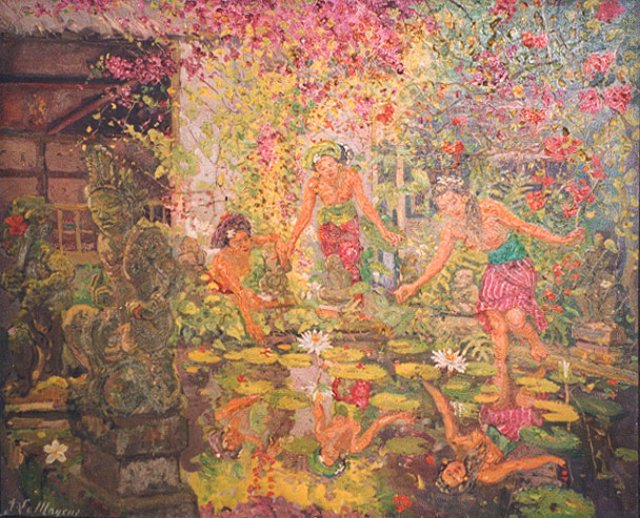 From Geringer Art's collection of artist biographies:
  ADRIEN JEAN LE MAYEUR DE MERPRES
 (Belgian, b. Feb. 9th, 1880 – d. May 31, 1958)
Styles: Impressionism, Orientalism Subjects: Belgian Landscapes, Scenes of Asia and Africa, Balinese Genre, Figures and Nudes
Jean Le Mayeur is a painter best known for his sensual images of Balinese women, including his beautiful Balinese wife, the dancer Ni Pollok. According to art historians Dr. Job Ubbens and Cathinka Huizing, Jean Le Mayeur was "… an exponent of late European Impressionism, which favors a gentle, earthy palette of yellow, brown, beige and soft blue which is contrasted to red, pink, orange and purple accents."
Le Mayeur was the youngest of 2 brothers born in Ixelles, Brussels, to Andrien Le Mayeur De Merpres, a painter, and his wife Louise Di Bosch. Young Jean studied painting with Ernest Blanc-Garin (1843-1916) and also with his father. At his father's insistence he attended the Polytechnic College of The Université Libre de Bruxeles, where he majored in Architecture and Civil Engineering. After graduation, to the consternation of his family, Jean began to further develop his interest in painting.
After painting Belgian landscapes for more than a decade, he served as an army painter during WW I and also took battlefield photographs. After the war, seeking solace in travel, he made trips to the south of France, Morocco, Tunisia, Madagascar, India, and Cambodia. Le Mayeur's works from this period already display a tendency towards Orientalist and exotic subject matter. He then visited Tahiti and French Polynesia with the intention of being like Paul Gauguin; a European exploring and capturing the primitive beauty of Polynesian culture. After being generally disappointed by Polynesia — which he found in decline and tainted by colonialism — he moved on.
Le Mayeur was 52 years old in 1933 when he arrived in north of Bali at Singaraja in the Buleleng province. Since the 1920s Bali had gained a reputation as a destination for avant-garde artists including the German Walter Spies and the Dutchman Rudolf Bonnet. The island's stunning landscapes, relaxed lifestyle and liberal sexual mores made it a paradise for European expatriates.
After his arrival in Bali, Le Mayeur travelled south, eventually arriving at Banjar Kelandis, near the border of Bali's capital, Denpasar. There, he found himself fascinated by the vibrant remnants of traditional Balinese culture including temple rituals and local dances. Le Mayeur was also struck by the color and beauty of the surroundings which he found unspoiled. After renting a house at Banjar Kelandis, he met a 15 year old Legong dancer, Ni Nyoman Pollok, who became his muse and model.
An exhibition of paintings featuring Ni Pollok held at the Singapore YMCA in 1933 was a commercial success: all the paintings were sold. After the exhibition Le Mayeur bought land at Sanur beach where he built a home and studio. There he continued to execute paintings of Ni Pollok and 2 of her female friends, and decided to make Bali his permanent home. He declared to friends: "This time I shall live exclusively for my art and nothing shall distract me." Le Mayeur and Pollok married in 1935 in a Balinese ceremony. Since Legong dancers are said to be too old to dance after age 16, Pollok had officially retired from ritual dancing to serve her new husband as a model.
Exhibitions in Singapore in 1937, and in both Singapore and Kuala Lumpur in 1941, helped bring Le Mayeur attention and acclaim. A visitor to Le Mayeur's 1937 show recalled that Pollok appeared alongside the paintings dressed in traditional Balinese costumes. She also offered herself bare breasted for photos, creating a sensation.
In the late 1930s tourists arriving at Sanur from cruise ships would be served drinks and snacks by Le Mayeur's topless wife and her servants. As a result, the artist was warned by the Colonial government that this "immoral behavior" must stop. Using his family connections, Le Mayeur wrote to his cousin, the King of Belguim, who in turn wrote to Queen Wilhelmina of Holland who told her Governor General to leave the artist alone.
During the difficult years of the Japanese Occupation (1942-45) Le Mayeur was kept under house arrest by the Japanese authorities. He continued painting, using rice sack cloth and other available surfaces to paint on. Although his home was ransacked, he managed to keep most of his paintings.
In the fall of 1945 photos of Ni Pollok dancing for American GIs appeared in "Life" Magazine, bringing international attention to Le Mayeur's emergence from the difficulties of the war. "Except for a few journeys to the Far East, I never left the island," he told a reporter. "Why should I? Sir, I am an Impressionist. There are three things in life that I love: beauty, sunlight and silence. Now could you tell me where to find these in a more perfect state than in Bali?"
In the postwar period, tourism grew and Le Mayeur's house remained an attraction. A 1951 issue of National Geographic noted that "Though people wander in and out their house all day, Le Mayeurs's hospitality is unending." Tourists bought Le Mayeur's paintings, which were gradually entering collections across the world, including those of Indonesian President Soekarno and Indian Prime Minister Jawaharlal Nehru.
In 1958 Le Mayeur returned to Brussels where he was treated for ear cancer. He died on May 21, 1958 and was buried in the Ixelles cemetery. After his death Ni Pollok married an Italian Doctor who was forced to leave Indonesia not long afterwards. She lived alone in the Le Mayeur villa at Samur until her death at age 70 on July 27, 1985.
The Villa Le Mayeur, a courtyard house featuring a garden filled with frangipani flowers, Balinese statues and palm trees is now a museum run by the government of Indonesia. It can be found on the beach between Jalan Hang Tuah and Inna Grand Bali Beach hotel, one of the largest hotels in Sanur. It is open every day from 8AM to 2PM on Sunday through Thursday, 8AM to 11AM on Fridays and 8AM to 12:30PM on Saturdays.
 Collections: The Agung Rai Museum of Art, Bali The Museum Pasifika, Bali The Le Mayeur Museum, Bali